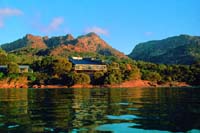 Freycinet Lodge, Freycinet National Park
Tasmania has a broad range of accommodation, from 5 star resorts to backpacker hostels, so there is something for everyone's taste and budget. Whether you choose a city motel or remote wilderness cabin, a beach resort or farm-based bed and breakfast heritage cottage, a vigilant licensing authority means you should never encounter sub-standard accommodation.
The major styles of accommodation are:
Resorts - mountain, beach and city (some with casinos)
B&Bs, Historic Homes and Properties
Motels - from 3 to 5 star, mostly with restaurants
Apartments - self-catering units with motel style features
Hotels - with or without private bathrooms
Caravan Parks - camping, caravan sites, cabins, on site caravans
Cabins - similar to apartments but smaller, at a budget price, usually in parks
Hostels - share dormitory rooms, some with single/twin rooms.
Please don't hesitate to email us for further information.